MJ of Sports Fan Entertainment recently made a video of his predictions for the next five Super Bowls, and I've seen various other online articles do this sort of thing as well.  I thought I'd offer thoughts on who I think will be future super bowl participants and winners, and also give a synopsis of where I think each team is heading in the future.
Super Bowl LII: Atlanta Falcons vs. New England Patriots.  Ah, a rematch of last year!  Now, before the season, I had the Giants (my favorite team) making the Super Bowl.  After 3 weeks, it definitely looks as though that's not happening.  The Falcons appear to not care about the whole "Super Bowl hangover" mentality, as they have started hot.  Meanwhile, we knew the Pats would bounce back after that ugly Week One loss.  This team is just too talented, and will once again reign supreme in the AFC.  Will they win for the sixth time?  Well…
The Winner: Atlanta Falcons.  They're hungry for revenge, and they will win this highly publicized rematch of what was a crazy Super Bowl last year.  I read an article by Matt Ryan called "The Hangover", and in the article, he described just how shocking that loss was.  However, I think he's put in the work to win once and for all (as has the rest of this Falcons team).  They win the franchise's first championship.
Image Credit: Matthew Emmons/USA Today Sports
Super Bowl LIII: Dallas Cowboys vs. Pittsburgh Steelers.  As much as I hate the Cowboys, they're probably going to a Super Bowl within the next 5 years.  This is when Dak and Zeke will be in their third year, and their big pieces on the o-line will still be in their prime.  Add in some more defensive pieces during the next draft/free agency period, and you've got yourself a Super Bowl contender.  Meanwhile, this will be Big Ben's last hurrah as the Steelers QB, as the stacked offense around him will perform up to their expectations.  In addition, their young defense will begin to hit their prime.  This will be considered an intriguing matchup, due to the fact that this is the 4th time these juggernaut franchises have met in a Super Bowl. so who wins?
The Winner: Pittsburgh Steelers.  When I said Big Ben's last hurrah, I meant it.  He will retire after this game as a 3-time Super Bowl winner, having led the Steelers to their 7th Lombardi trophy (2 more than any other team).  Their offense + playoff experience will ultimately be too much for Dallas to handle.
Image Credit: Justin K. Aller/Getty Images
Super Bowl LIV: Oakland(?) Raiders vs. Green Bay Packers.  Aaron Rodgers finally makes it back to the Super Bowl, but not after the Packers' front office puts in some work.  Ty Montgomery is interesting, but he's not a legit RB, and the defense still has some question marks.  Meanwhile, the year 2020 may seem late for the Raiders to reach the first Super Bowl of the Derek Carr era, but I had to let the classic AFC juggernauts (Pats and Steelers) get one more shot.  In a matchup of two great QBs, who wins?
The Winner: Green Bay Packers.  In what may be their final season in Oakland, the Raiders don't get their first Super Bowl since 1983.  Aaron Rodgers has to have another Super Bowl before he retires, and on February 2, 2020, he gets it.
Image Credit: Stacy Revere/Getty Images
Super Bowl LV: Las Vegas Raiders vs. Tampa Bay Buccaneers.  In what could be their first season in Vegas (either that or it's their second), the Raiders are back in the big game.  Derek Carr, Amari Cooper, and Khalil Mack are still in their prime.  Meanwhile, Jameis Winston finally leads his Bucs to an NFC title, with an offense led by Mike Evans and O.J. Howard (Desean Jackson is likely gone by now).  The on-the-rise QBs of 2017 meet in 2021 for a championship.  Who wins?
The Winner: Las Vegas Raiders.  The Colorado Avalanche won the Stanley Cup in 1996.  Why do I bring up a seemingly random fact?  Because they won that championship the year they relocated, and I think the Raiders will do the same thing.  It ultimately comes down to this, Derek Carr appears to be a better QB than Jameis Winston.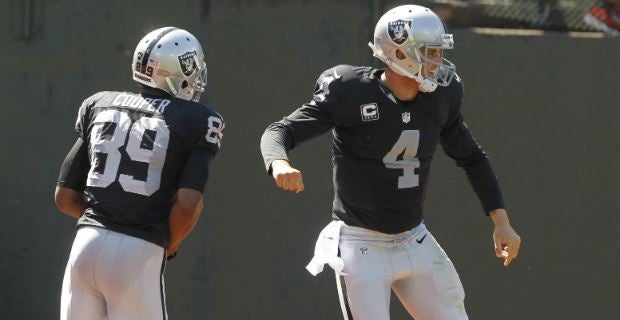 Photo Credit: Cary Edmondson/USA Today Sports
Super Bowl LVI: Los Angeles Rams vs. Tennessee Titans.  The teams that made a huge trade with one another in the 2016 draft will meet in the Super Bowl less than a decade later.  Not to mention, the Jeff Fisher teams, and also the teams that met in the "one yard short" Super Bowl.  I wanted to push the Titans to an earlier Super Bowl date, but I think competing with the Patriots now and the Raiders later will make their Super Bowl aspirations delayed.  As for the Rams, I am convinced that Jared Goff is the franchise QB.  He will turn 27 in 2021, which will probably be the midst of his prime.  Sean McVay seems to have been a great hire.  Aaron Donald will reach his 30s, but should still wreak havoc on the d-line.  I like where L.A. is heading (not the Chargers).  Question is, who wins?
The Winner: Tennessee Titans.  While the wait for the first Super Bowl in franchise history may be long, this time they don't come up one yard short.  Marcus Mariota gives Tennessee the Super Bowl ring they have long awaited… in 2022.  Also, I actually have the Rams having "Super Bowl homefield advantage" here, as this game will be played in Inglewood, California.  Titans win anyway.
Photo Credit: Christopher Hanewinckel/USA Today Sports
10 Other Teams I Think Could Easily Make The Super Bowl (in the next 5 years):
Jacksonville Jaguars: I actually think if they build a defense around Bortles (which they already have built a pretty nice one), they can win a Super Bowl.  If Trent Dilfer and old man Peyton Manning can win Super Bowls, so can Bortles.  But the defense has got to be menacing.
Indianapolis Colts: It all depends on whether or not they actually build a team around Luck… and if Luck can stay healthy.  But if those things happen, they can definitely win a Super Bowl within the next 5 years.
Kansas City Chiefs: Next 5 years?  More like the next 2 years.  However, Alex Smith looks like he can finally lead a good offense (thanks to Kareem Hunt and Tyreek Hill).  And that defense will force turnovers as usual.  If they want to win a championship, Kansas City better get it done quick.
Carolina Panthers: Reaching another Super Bowl really depends on whether or not Cam Newton has his "swag".  If he does, the man is dangerous, and the Panthers are flung back into Super Bowl contention.
Houston Texans: We all know the defense is elite (and probably will retain that status over the next 5 years).  The question is whether or not Deshaun Watson is the answer.  If he is, then the Texans could easily be representing the AFC in a Super Bowl soon (and winning it).
Detroit Lions: Detroit gave Matthew Stafford that contract for a reason, he's one of the best QBs in the NFL.  But will they build up more elite players on that defense?  And can the Lions actually win a playoff game to begin with?
Minnesota Vikings: With Teddy Bridgewater and Sam Bradford, who knows what their QB situation will be like?  What we do know is that Minnesota has a great defense, and if they make a Super Bowl in the next 5 years, that will be why the made it.
Philadelphia Eagles: Young QB?  Check.  Talented defense?  Also check.  It wouldn't surprise me if the Eagles made the Super Bowl in the next 5 years.
Denver Broncos: This team will go as far as their defense can take them.  If they carried old man Peyton to a Super Bowl, they can certainly do the same with Trevor Simeian.
Chicago Bears: Hear me out, guys.  If Trubisky is legit and they give him some weapons through high draft picks, this team could sneak in a Super Bowl run towards the tail end of the next 5 years.
10 Teams Trending in the Wrong Direction:
Cincinnati Bengals: Questions about their offense have emerged, and this is the team that has held on to Marvin Lewis for what seems like an eternity.  If that doesn't change, then I can tell you Cincy isn't heading to the Super Bowl anytime soon.
Miami Dolphins: Just when Ryan Tannehill was making his mark on the franchise, he tears his ACL and Jay Cutler has to come in for a year.  Miami is still a talented team, so it's not so much they're heading in the wrong direction.  It's just that they have to compete with New England now, and Oakland and Tennessee later.  Good luck with that, you're gonna need it.
Buffalo Bills: They appeared to have begun a tank this year (though they've started 2-1).  Still, the front office is all dramatic with Tyrod Taylor, and they traded away two of their best players.  I simply don't like where this team is going, and they won't be making a Super Bowl anytime soon (their first goal should be to make the playoffs).
Baltimore Ravens: While they have a GM in Ozzie Newsome who can build a promising team within the next 5 years, I just don't see it happening.  The offense has very few weapons, and Terrell Suggs and Eric Weddle will soon be on the wrong side of 30 (if they aren't already).
Arizona Cardinals: Carson Palmer looks like he's done after this season, and so the Cards will likely start from scratch by drafting a QB in 2018.  And while that 2018 draft class looks exciting, look out for the retirement of Larry Fitzgerald, and possibly even Bruce Arians if he has health issues.  I like the defense, but I don't like this team's chances in the next 5 years.
New Orleans Saints: The dilemma with the Saints is that even though Drew Brees is still balling, their defense still stinks.  The moment the defense gets decent is probably when Drew Brees retires, which will mean they have to get a QB, then develop him.  This team is arguably the most likely candidate to not be contending anytime soon, especially playing in a strong NFC South.
Los Angeles Chargers: Phillip Rivers is getting old, and while I like Melvin Gordon and Joey Bosa, is there really many other things to like?  Besides, the whole team seems to suffer from general bad luck, with injuries or special teams miscues seeming to lead to their demise year after year.  I can't blame the citizens of L.A. for not showing up to Chargers games.
Washington Redskins: The Kirk Cousins fiasco may keep them from contending, as they might be looking for a new QB in the 2018 draft.  Also, good luck competing with the Eagles and Cowboys.  Speaking of competing with those two teams…
New York Giants:  When they finally build a decent o-line is when Eli Manning probably hangs up the cleats for Davis Webb (or some other guy) to take over.  This is the dilemma for my beloved Giants.  Not to mention, all the talented guys on defense that they got from that free agency spending spree will soon exit their prime, as they were on other teams before New York, so naturally, they're older dudes.  Also, Ben McAdoo sucks and should be fired.
Seattle Seahawks: Richard Sherman and Kam Chancellor will soon enter their 30s.  Earl Thomas has already considered retirement.  Feast mode isn't the answer at RB.  The o-line is the worst in the league, and needs serious rebuilding.  And that is why Seattle won't be in any Super Bowls the next five years, folks.  They had a nice run.  That run is over.
The 3 Remaining Teams, A.K.A. "The Long Term Rebuilders"
New York Jets: Like the other 3 teams in this section, I think the Jets can compete for a Super Bowl.  I just don't see it happening within the next 5 years.  It's something you simply can't project.  However, with a young piece like Jamal Adams at safety, and possibly drafting a QB in 2018, the Jets could be competitors after 2021.
San Francisco 49ers: If San Fran does indeed land Kirk Cousins next year, it will make their task of competing for a championship a lot easier.  However, their offense is still a major issue, with a total lack of weapons.  Not to mention, the o-line is pretty bad aside from Joe Staley, and Staley is 33.  Thought the defense has promising pieces, work needs to be done there as well, particularly in the secondary.
Cleveland Browns: Jokes are made about Cleveland as the team that's been "rebuilding since 1964", as their streak of QB incompetence since 1999 has been one of incredible sadness for Browns fans.  With that being said, Deshone Kizer could be the man that ends the curse.  Can he though?  And is that defense with Myles Garrett, Christian Kirksey, Jabrill Peppers, and Jamie Collins going to be as good as advertised?  These are all questions that we simply don't have an answer to.